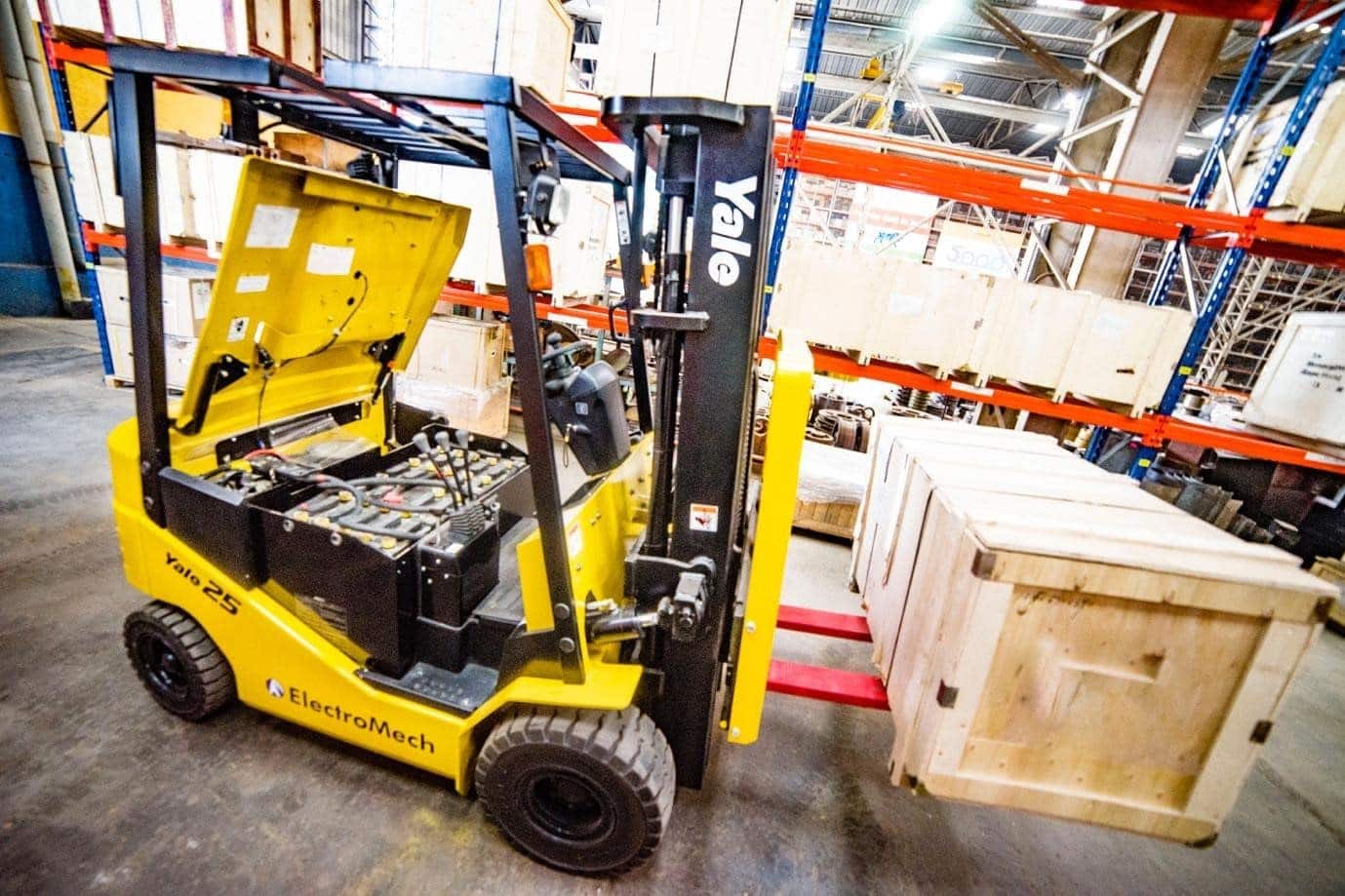 The demand for electric lift trucks is growing across the globe. Benefits of Li-ion electric forklift may even seem obvious – with no emissions to harm the environment, operators or even the products in which you deal. ElectroMech Yale is a leading electric forklift supplier in India, and we think our range of small electric forklifts, electric stacker trucks, BOPTs and reach trucks can help your business be more efficient, productive and safe while still being very cost-effective.
1. Opportunity charging
Lead-acid batteries usually need to be changed every couple of shifts so that they can be charged. It's slow and manpower-intensive work. Lithium-Ion batteries can be charged quickly every time there's a break. So, they're only taking breaks where the operators are too. Therefore, neither extra labour is required nor extra charging space.
2. Energy Versatility
ElectroMech Yale electric forklifts come with power optimisation options. Switch to the HiP (High Performance) setting if you need speed and heavy lifting. On slower, lower load jobs, you can switch to eLo (Energy Low) which saves enough power so it can run for a longer time between charges.
3. Job Versatility
We have a wide range of Li-ion lift trucks like battery-operated pallet trucks (BOPT), very narrow aisle trucks, electric stacker trucks, and 3- and 4-wheeled forklifts. Whatever the application, we have electric forklifts ready for the job.
4. No Compromise on Strength
Just because they're electric, doesn't mean these lift trucks are low on strength and robustness. Li-On powered forklifts are just as powerful as their lead-acid or ICE counterparts. We have electric forklifts that can lift from 1500 kg to over 5000 kg.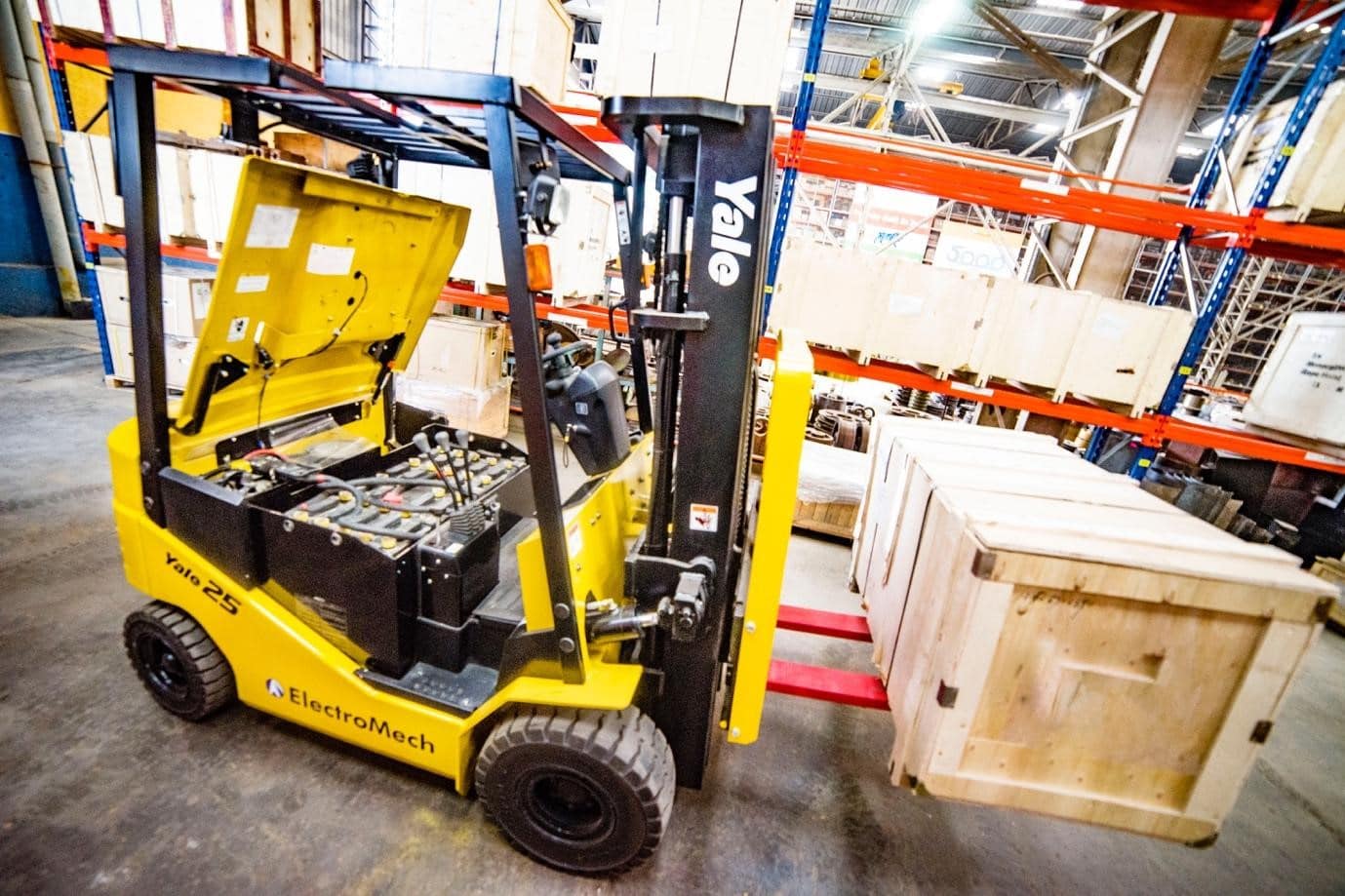 5. Cost-Effective & Efficient
Lithium-ion batteries are more energy-dense than lead-acid and are low maintenance and more energy efficient. With proper use, Li-ion batteries can last quite a bit longer than other electric options. They also need fewer moving parts than internal combustion engines, therefore, needing less overall maintenance too.
6. No Contamination
As we mentioned in the opening paragraph, zero-emissions are one of the central benefits of Li-on powered electric forklifts and electric stacker trucks. Its importance can't be overstated. In enclosed factory floors or warehouses, fumes from ICE vehicles can contribute to unhealthy working conditions for operators and employees, leading to more absentees. Sensitive products like chemicals, pharmaceuticals or food and beverages can be contaminated by the exhaust. That's why, for internal applications, electric forklifts, pallet trucks and stackers are essential to promote productivity and eco-friendliness.
Conclusion
The demand for Li-on powered lift trucks is growing steadily across the globe, and for good reason. They provide excellent productivity with low maintenance and easy serviceability. If your business is in the automotive, F&B, chemical, pharmaceuticals, retail or warehousing industry, you can improve your company's productivity quickly and easily with our range of electric forklifts.
Get in touch with us to find out more.