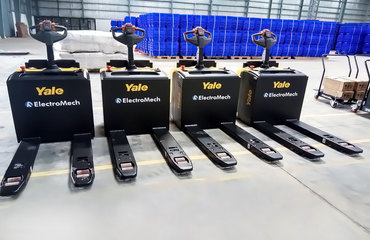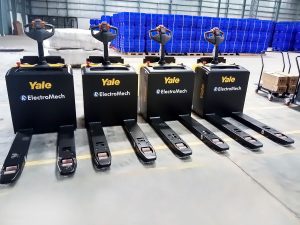 When it comes to pallets and material handling in a warehouse, everyone is synonymous with a forklift assisting the activity. However, very few know that a pallet truck also delivers the same efficiency as its fellow material handling counterparts and boosts productivity of the operator and the warehouse equally.
But what exactly is a pallet truck?
Pallet trucks are compact material handling equipment designed to manoeuvre heavy loads in and around warehouses, storage facilities, distribution centres and others. They include variants such as hand pallet trucks and electric pallet trucks that have power lift mechanisms and on-the-go charging, that can be made available with ride-on platforms too.
Ideal for boosting pallet transportations over short and medium range distances, pallet trucks come equipped with many more benefits as listed below.
Benefits
Easy to Operate and Versatility
Pallet trucks are compact as compared to forklifts this allows them to move around confined spaces and corners easily. They are available in different variants making them suitable for a wide range of applications. A pallet truck can move and handle load weighing up to 2ton which makes them versatile and a good alternative to forklifts.
Improved Efficiency
With their ability to move and handle different weights, pallet trucks always increase productivity and operational efficiency. The ease of use saves the energy of the operator and reduces fatigue. Loading and unloading of pallet trucks is easy and saves time and energy of the operator, allowing them to focus on tasks that are more challenging on the shop floor.
Time and Cost-Effective
Pallet trucks act as a cost-effective material handling solution for many warehouses and facilities. They are easy to maintain and economical in comparison to other MHE. Low maintenance means less downtime and high productivity with lower investment cost.
Ease of operation
Pallet trucks ensure safe and efficient lifting of heavy loads, thereby reducing the risk of injuries on operators. Pallet trucks are the easiest mode of moving and handling materials horizontally and need minimal training for operations.
The above-listed benefits make a world of difference to your warehouse operations in terms of safety and productivity. At ElectroMech-Yale, we offer a wide range of pallet trucks that are designed to boost efficiency and productivity. Contact us for more information.