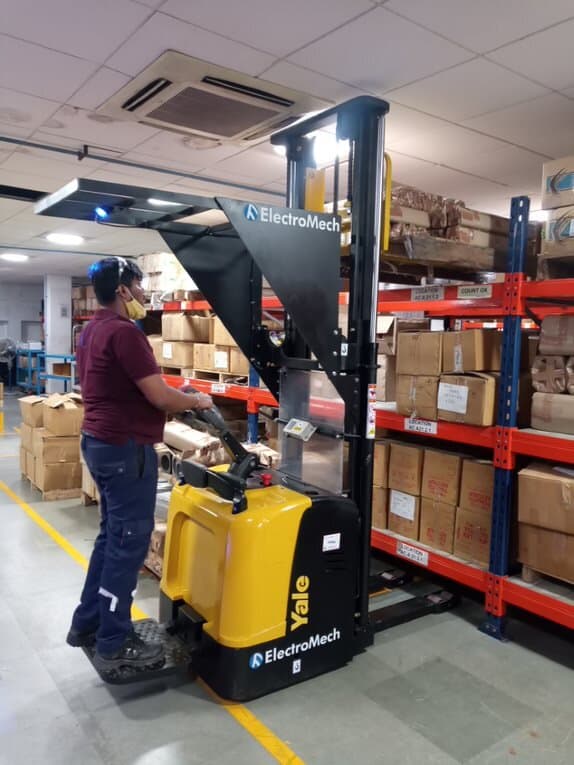 Maximum space utilization or doing more with less space has become a trend for the new-age warehousing industry. New manufacturing, retail, and distribution centres are on the rise in India and are facing new challenges when it comes to material handling in their narrow spaces. The new requirement is to stack more and move volumes of products in the taller racks. How can one fulfil such demands and are their material handling solutions available in the market to meet these demands? Continue reading.
How much is the general aisle width?
A typical aisle measures around a generous 3.5 mts to a challenging 2 mts. These narrow spaces and low space availability poses a challenge to material handling. The most popular of MHEs the forklifts hardly fit into such narrow aisles and even if they did they won't find enough turning radius to get themselves out of the narrow aisles. They would not only cause damage to themselves and the operator but also the racking and products stacked on those racks. Thus, we have come up with a list of narrow aisle material handling solutions for your consideration.
Stackers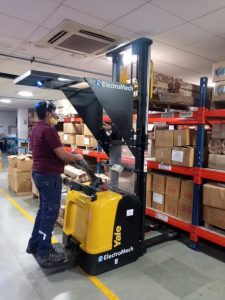 Stacker trucks are impeccably built and are technically advanced to optimize operations even in minimum aisle widths of 2.8 mts. Stackers are mainly electric with two variants, namely, walk behind and ride on. The popularity of the Stackers lies in their comfort and endurance and are designed specifically to be time and space-efficient. Stackers from ElectroMech-Yale come with an ergonomically contoured operator seat, fly-by-wire electronic steering, and automotive pedal layout, for superior operator comfort.
Reach Truck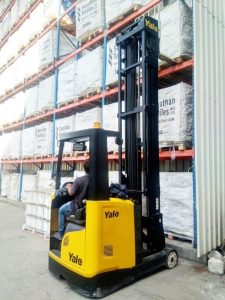 The next piece of material handling equipment we are going to touch is Reach Truck. ElectroMech-Yale Reach Trucks are adept to lift high with the highest residual capabilities and can operate within the aisle range of 2.4 to 2.9 mts. They offer lower lifetime service requirements without compromising on performance and control. They are robust mast built for stable load handling even at elevated heights. With our reach trucks, you achieve enhanced productivity, ergonomics, and dependability with low to none service time and cost of ownership.
Very Narrow Aisle Truck (VNA)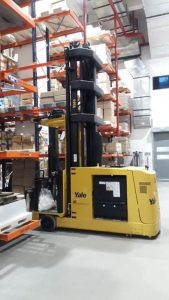 Our Very Narrow Aisle Truck leads the material handling domain for its superior acceleration, runtime and lifting/lowering speeds. They deliver excellent performance, supreme productivity, and dependability whenever called to action. They come equipped with an advanced turret head that ensures maximum efficiency while the compact and electronically adjustable non-intrusive Pantograph bolsters the truck to operate in the narrowest of aisle ranges between 1.65 to 1.95 mts with maximum side clearance.
We have lifted just a few narrow aisle solutions for your understanding. Explore our full range here. If you need assistance in deciding which solution suits your requirements, contact us by sending your queries and enquiries at yale@emech.in. or follow us at ElectroMech-Yale