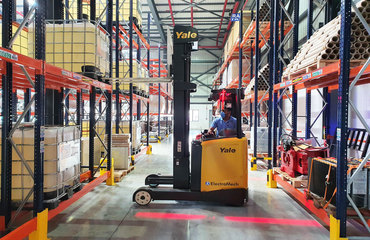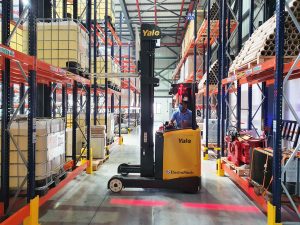 Reach trucks are very versatile and useful material handling equipment in operations at warehouses and storage facilities. They are mainly useful for facilities with space challenges and looking for higher reach, as they increase the space utilization for storage without increasing the overall footprint.
But before you plan to procure a reach truck for your facility, you might want to know how different is it from other material handling equipment! What benefits does it offer? And what all variants are available in the market? In this blog, we have tried to answer all your queries.
Benefits of Reach Truck
Ergonomics
The reach truck has a compact design even with its wheelbase structure. The compact design enables them to reach and access higher shelves. Their exceptional manoeuverability allows them to navigate tighter spaces more comfortably. They are crafted to precision with a robust mast construction for high residual applications and stable load handling through the designated height range.
Turning Radius
As compared to other material handling equipment, a reach truck requires a lesser working aisle space to manoeuvre in comparison to a regular forklift. They occupy less space to move around, which means this additional saved space can be utilized for more storage.
Lift Capacity
The load-lifting capacities of reach trucks range from 1ton to 2.5ton, covering the majority of their industry applications.
Height Range
Depending upon the model, a reach truck can safely reach as high as 12m. This means that you not only need less aisle space, you can also stack loads at a greater height.
Higher Throughput
Reach trucks are mostly used for indoor locations for higher throughput. The operator comfort with unique ergonomic controls and enhanced visibility improves operator productivity as well as truck throughput that can handle around 25 pallets/hour.
Different Variants of Reach Trucks
Reach trucks offered by ElectroMech-Yale combine comfort with productivity with low operating costs. Our reach trucks are designed and engineered to deliver optimum results for enhanced productivity, efficiency, and dependability with minimum service time and reduced cost of ownership. These easy to operate and manoeuverable reach trucks contribute to the best optimal utilization of warehouse space and maximize pallet throughput. There are mainly two variants of reach trucks offered, namely, Sit-On and Stand-On type.
One additional variant includes the pantograph, which is a scissor-like design for extended fork reach., they are commonly double-deep reach trucks for warehouses needing higher storage density. They are used mainly in either a single or double-deep storage.
If you are looking to maximize the space utilization for your warehouse space and looking for material handling equipment that manoeuvers easily in the narrowest of aisles and confined spaces, can access heights and lift heavy loads, then an ElectroMech-Yale reach truck ticks all the boxes. For more information, visit here.