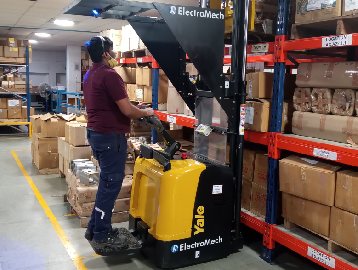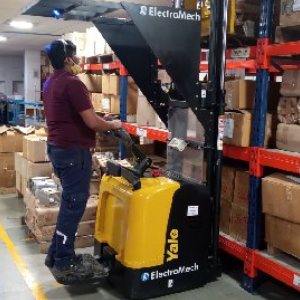 With the continuous expansion and demand from the market, industries such as warehousing, retail, packaging etc call for material handling solutions that enhance the efficiency of their supply chain network. Those with less space opt for maximum space utilization through high-density stacking; this poses further challenges to equipment moving through the tight corners of the warehouse. This is where stackers emerge as a hero and provides an extremely valuable service.
ElectroMech Lift Trucks Pvt Ltd. from its experience as a global leader as electric stacker manufacturers and expertise has compiled a list of benefits that an electric stacker has to offer to your business.
Maximum Space Utilization
At present, it is the most important of benefits associated with a pallet stacker. If you don't have a pallet stacker in your arsenal of material handling equipment and depend solely on the capabilities of your workforce, then chances are that you are not utilizing the warehouse space to its maximum. There are chances that you must be missing out on high, vertical stacking storage which cannot be reached without assistance of equipment. Electric Stackers have adjustable pallet holding forks that have an excellent vertical reach.
Operator Comfort
Often the most overlooked benefit but an extremely important one for warehouse productivity. It can be a challenge for workforce to constantly stack heavy equipment, pallets, and boxes and deliver continuous performance. However, when they have an electric stacker as a companion, the management will be able to reap benefits of a reinvigorated workforce. They also come in ride-on and pedestrian variant for operation flexibility.
Versatility
An electric stacker not just assists in accessing heights and enable high-shelve stacking, but they also help in transportation of goods over long and short distances. This helps in enhancing the shop floor efficiency and process significantly.
Easy Manoeuvrability
This is one of the most critical of benefits for those warehouses and facilities that operate in confined spaces and multiple racks. Without specialist equipment like a stacker, movements in such spaces become a challenge for the workforce especially with loads. Although, it's taller equipment, they can even easily manoeuvre even the tightest of aisle at the corners.
Why Choose ElectroMech Lift Trucks?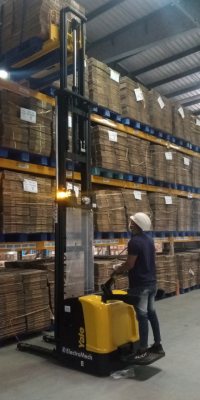 If you looking to source for a reliable material handling equipment provider for your business, then look no further than ElectroMech Lift Trucks Pvt Ltd. to fulfill all your stacking requirements. From hand pallet trucks to electric stackers, we have a truck for all your needs. When you source from us, you are joining hands with India's leading electric stacker manufacturers, and a host of other high-performing and quality equipment, and at the best price.
Our range of Electric Stacker provides seamless pallet transportation and stacking across warehouses in India. The ride-on variants are designed with excellent ergonomics and safety, such as the cushioned operator platform and overhead guard and are engineered with the innovative Yale AC technology.
For more detailed information on our electric stacker features, visit Electric Stacker (page link). You can also get in touch with our experts at yale@emech.in/yalemhe@emech.in.