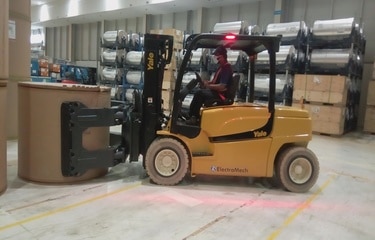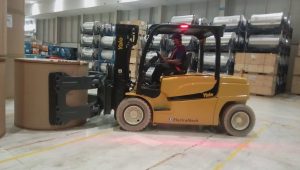 A key element of safety is the material handling equipment used on the jobsite or in the warehouse. It is now essential and worth to understand how forklift design has evolved over the years in terms of safety. Although there are many standards and regulations that overlook forklift operations and safety; however, some brands like ElectroMech-Yale have gone beyond compliance.
Having studied the issues related to operator's safety from their perspective and working continuously evolution of the equipment design, ElectroMech-Yale has leveraged technology to help operators enhance focus and reduce fatigue and subsequent operational errors. The following are some of the key components that has led to reduction in operator's fatigue:
Forklift Ergonomics
Ergonomics is nothing but the science of designing equipment that enables operators to interact with the equipment in a safe and efficient manner in that intended environment. When it comes to forklifts, it means that the truck needs to be designed around the way the operators work rather than forcing the operators to adapt to the equipment design. If they are forced to compensate for the poor ergonomics of the equipment, they are more likely to experience fatigue and could lead to reduced productivity. ElectroMech-Yale forklifts offer a range of standard and optional features that enable the user to configure the truck based on their application needs.
Enhanced Visibility
Operator sightlines play a critical role in operator's productivity and efficiency. Our range of forklifts and lift trucks come with a wide mast view that maximizes the operator's forward field view offering them safety and comfort. This enhanced feature helps reduce the risk of operator fatigue and accidents otherwise caused due to obstructed views.
Performance Enhancing Features
Moving to a clear, informative and more interactive screen displays have enabled forklift manufacturers to create a customizable and personalized experience for the equipment operators. It offers the operators comfort as they themselves have become accustomed to such technology via smartphones etc. The latest colour display integrated with features such as performance selection allows the operator to configure the truck to meet their application requirements. Intuitive and easy-to-operate menus, simple and clear display of speed, power, error code, and working hours keeps the operator fully aware and informed. Also, configurable widgets help operators to customize their digital experience and enhanced engagement by receiving contextual alerts.
Enhancing Forklift Operation
A wide range of intelligent and smart sensors and systems are being integrated into new forklifts to ensure correct operating practices. The operator compartment in the new ElectroMech-Yale range of forklifts has been configured to enable the operator to work effortlessly and in comfort, allowing accessibility and controllability. Adjustable steering column and full suspension seat reduces operator fatigue.
New and advanced equipment features lay a solid foundation for safer and efficient operations. From reducing operator fatigue to improving floor visibility to enhancing safety, stability and performance, today's forklifts offer features that help address varied forklift-related safety concerns. While safety is the primary focus, forklifts designed and engineered to reduce fatigue and enhance efficiency also deliver benefits in terms of operator satisfaction and productivity.
ElectroMech-Yale is committed to assisting customers maintain safe operations with equipment designed and engineered for the operator, in compliance with the industry standards. To know more visit emechyale.in.