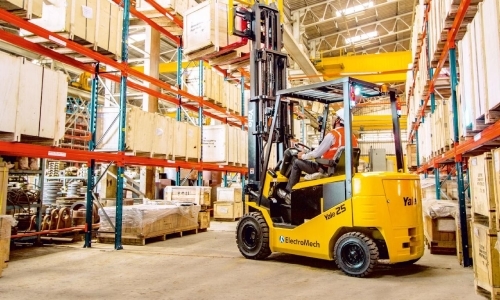 We have noticed that, in some cases, warehouses often leave a lot of potential on the table. Rethinking your layout, organising your goods, and incorporating technology like forklifts and pallet trucks can go a long way to improve productivity while lowering costs in financial and human terms too. Let's go into a little more detail.
Re-organise
When was the last time you analyzed the flow of goods through your warehouse? It's crucial to understand how to cluster related products or put them in a sequence so that time and effort are cut down. For instance, you can also put more high turnover products near the doors so they are easier to access. Similarly, the rest of the goods could be organized in order of turnover or another variable that is more relevant to your business. Another effective way to make goods easier to access is labeling and coloring different areas and racks so that forklift operators and floor crews can easily identify where they are and where they need to go. Re-organizing can be a headache to do, but it has a huge effect on efficiency over the long run.
Space Optimisation
If your warehouse seems to be getting crowded, maybe you should think of stacking goods higher rather than spreading them out. Using a good reach truck would make it so easy to access those higher stacked items. Also, consider decreasing the spaces between storage units to just enough to get a very narrow aisle forklift through. That way, you can store far more in the same space. Another way to use space more efficiently could be to use different types of storage solutions for different types of products. For example, there's no need to store small items on pallet racks or bigger items on high ones.
Adopt the Right Technology
If most of your operations are still done by hand, getting technology to help is a sure-shot way of increasing efficiency where the costs can easily justify the rise in productivity. The most prominent benefits are huge reductions in turn-around times, and the prevention of employee fatigue, and a definite reduction in stress-related injury. As we've mentioned before, a reach truck and a very narrow aisle truck will definitely help in a space-optimized warehouse. If you have a big warehouse with long distances to be travelled, a ride-on electric pallet truck could speed things up while keeping the operator safe and fatigue-free. If you're considering the cost of adding forklifts and trucks to your warehouse, ElectroMech Yale offers a wide range of extremely durable lift trucks that have low maintenance costs and excellent after-sales services for added convenience.
Ask your employees
The operators and personnel on the floor are probably the best sources for new ideas on how to make the workspace more efficient. You could also give them a little more incentive to find solutions to the problems. For instance, each quarter or each year, you could reward the employee with the best time and money-saving idea with a small gift, a certificate or even a trophy. Not only will this make them feel appreciated, but it could lead to a regular re-evaluation of how efficiently your warehouse is operating.
Conclusion
These are just a few ideas on how to save time and money while raising productivity in your warehouse. We hope you found them useful. If you are interested in our range of forklifts and trucks, please click here.
Are there other methods that your company has implemented to improve efficiencies? Would you like more tips? Let us know in the comments and we may write another blog post on this topic.