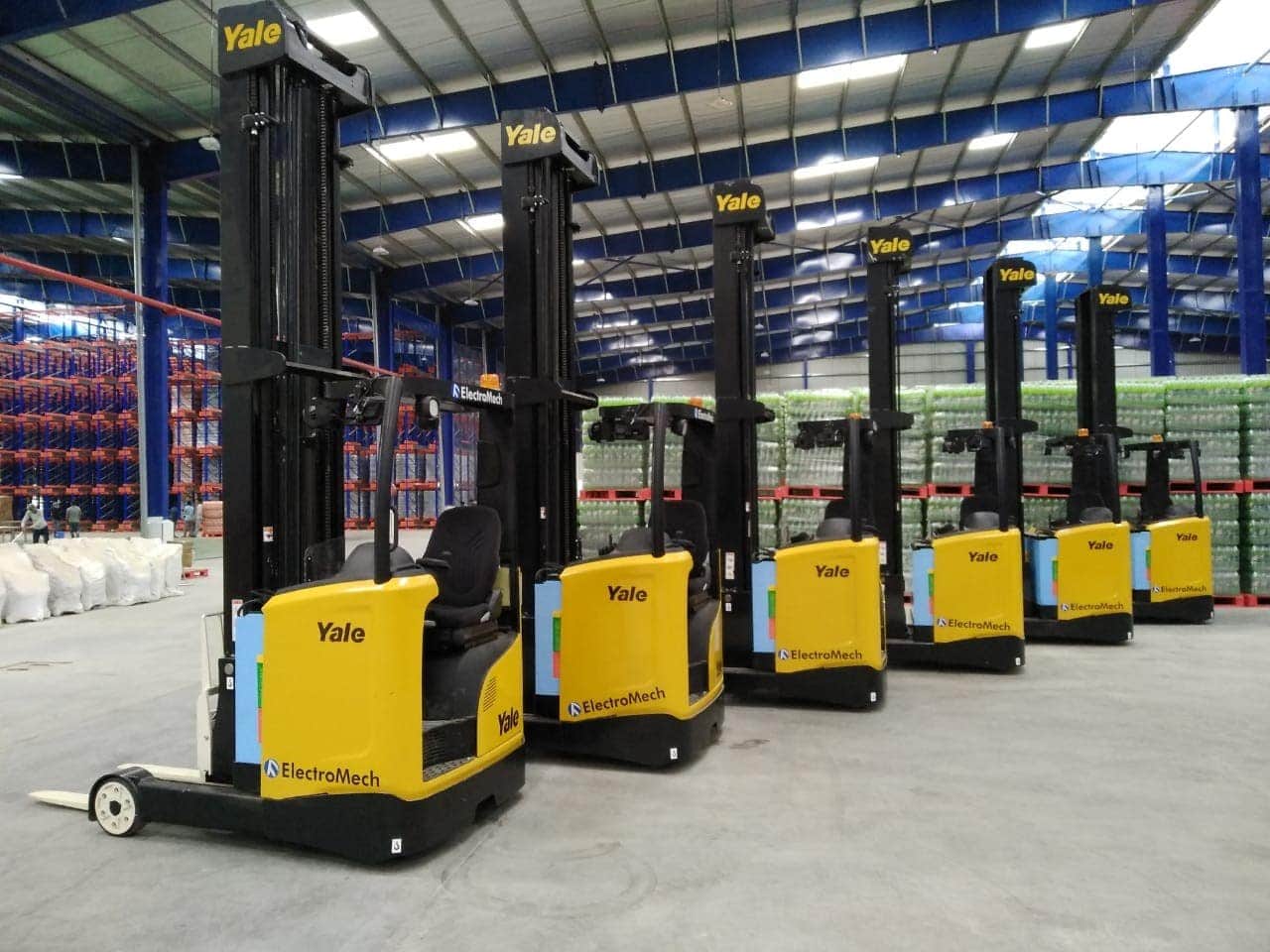 Cold storage warehouses have some of the most demanding conditions when it comes to material handling equipment, which can sometimes make it difficult to find the best lift trucks for the job. If you pick the wrong ones, you could be set back in damages not only to the lift truck but also to your product. Fortunately, with the right forklifts – like battery operated pallet trucks (BOPT), very narrow aisle trucks and reach trucks – these challenges can be easily overcome.
Aisle Width
Problem
The narrow aisles and higher racks can make it tricky to reach the top shelves and manoeuvre effectively between the aisles leading to damaged products and injured operators.
Solution
Very Narrow Aisle forklifts are the perfect solution. They are excellent at manoeuvring and can reach the high shelves with ease. Battery Operated Pallet Trucks (BOPT) are also an excellent choice. ElectroMech Yale makes some of the best BOPT and Very Narrow Aisle Trucks in India.
Electronics
Problem
Electronic controls can be damaged by cold temperatures and condensation seeping into the circuitry. It's also hard for operators to use them with gloves on.
Solution
Of course, it's best to have insulated, well-sealed electronics that can be easily accessed when wearing gloves. ElectroMech Yale's Very Narrow Aisle Trucks are designed with cold-proof electrical systems that can operate at very low temperatures.
Engines
Problem
ICE engines can often stall or can be hard to start in cold temperatures. Lead-acid batteries also face problems as their capacity can drop by approximately 35%.
Solution
Lithium-ion batteries aren't that easily affected by low temperatures. Our range of electric forklifts or BOPT are great choices.
Sensitive products
Problem
Sensitive chemicals, pharmaceuticals or food items can all be damaged with diesel fumes.
Solution
We are among the best electric forklifts and pallet trucks manufacturers in India and provide these to the Food and beverage, pharmaceutical and chemical industries.
Rust and ice damage
Problem
In cold storage facilities, material handling vehicles can get damaged quickly due to frost. This could lead to more frequent breakdowns, damaged goods and personnel who get hurt.
Solution
Forklifts working in cold storage need to be extremely tough with seamless construction, sealed ball bearings, galvanised components, insulation, and frost resistant glass for better visibility. We provide these features in our very narrow aisle trucks and can customise our lift trucks to the needs of our customers too.
Operator Comfort
Problem
Working in very cold environments can have adverse effects on human body affecting one's health. Cold temperatures can lower body temperature leading to an increased chance of getting sick.
Solution
Having insulated, heated driver cabins can have a huge impact on the health, comfort and safety of lift truck operators. That's why our very narrow aisle trucks are designed with insulated, heated cabins.
Electromech Yale can help
We make some of the best electric forklifts in India. We have a specialised range of pallet trucks, reach trucks and very narrow aisle trucks in India designed with the cold storage industry in mind. Our lift trucks can get customisations to suit your needs like optional frame coatings, tie rods, tillers and battery covers in hot zinc. Also available are a variety of attachments that can be selected based on the products you handle.
If you're interested in finding out more, please get in touch with us here.