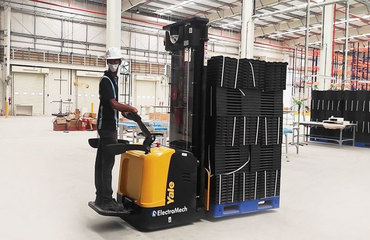 Material Handling is in itself a difficult task but cold storage and perishable product applications come with their challenges. Temperature variations caused due to incorrect stacking and improper handling can all lead to spoiled products. Perishable products can't be stored indefinitely; at some point, they are to be moved out in a refrigerated vehicle to the market. Success in the cold and perishable goods industry lies purely on efficiency and innovations.
Cold storage warehouses and blast freezers require material handling equipment (MHE) that are meticulously designed to be robust. They ask for MHE that ensure no compromise on durability and efficiency regardless of the conditions in the warehouse. With technical advancements, cold storage MHEs now are more efficient even in the harshest of warehouse conditions.
Having said this, finding robust material handling equipment to withstand such challenging conditions and freezing temperatures continues to be a herculean task.
Why is Cold Storage Challenging?
When material handling equipment moves from freezing temperatures to a normal or warm environment, it results in condensation on the metal's surfaces. Such humidity or condensation can drip onto the equipment components. When such equipment returns to freezing temperatures, the condensation freezes, damaging the equipment components.
Frequent repairs and increased downtime then become chronic issues, if you are not using equipment designed for cold storage applications. Below are a few ElectroMech-Yale solutions that can address these challenges –
Stackers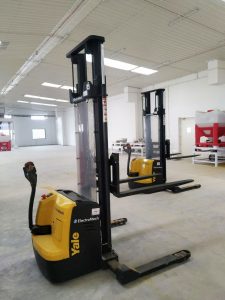 The ElectroMech-Yale range of stackers is designed and engineered to be efficient in operations and space utilization. Our ride-on and walk-behind stacker variants are known for their comfort and excellent endurance to cold storage conditions. Our electric stackers not only operate smoothly even in low temperatures but also let you optimize your warehouse space to its optimal best. Not just cold storage but they enable you to cater to a wide range of applications that can vary from lightweight, all-purpose to industrious multi-shift usage. Our ergonomically designed stackers come equipped with advanced tiller heads and push buttons control.
Pallet Trucks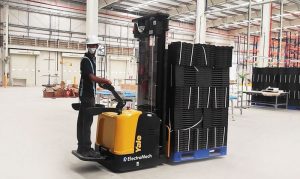 Pallet trucks offered by ElectroMech-Yale deliver excellent performance and agility when put into operations. All variants have a compact design, low effort operation, and ergonomics that reduce operator fatigue. Their robust and rugged construction helps them perform even in the most demanding of conditions prevailing in cold storage. The Lithium-ion powered BOPTs (MPC15) offer on-the-go opportunity charging that enables continuous performance and effortless operations, thereby enhancing operator productivity and efficiency.
Reach Trucks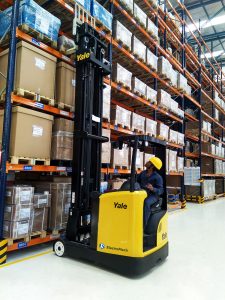 ElectroMech-Yale range of reach trucks has a compact and narrow design with wide chassis and heavy-duty configurations that meet almost every requirement of a narrow aisle application. Apart from being versatile and manoeuverable reach trucks contribute to the best optimal utilization of your warehouse space and maximize pallet throughput. Our heavy-duty mast options come with an enhanced residual capacity and can stack and retrieve rated capacity pallets at lift heights over 12m.
ElectroMech-Yale provides a varied range of material handling solutions that are designed to maximise productivity. This is combined with the unfailing after-sales network of Cranedge, the services arm from ElectroMech, which increases equipment uptime through the supply of genuine spares and application-based solutions.