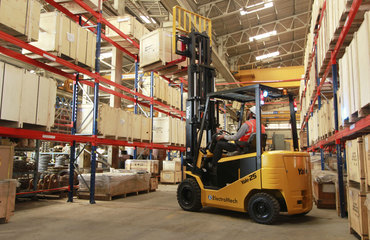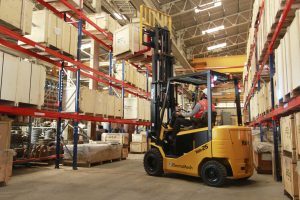 Forklifts are extremely useful material handling equipment on the shop floor; however, they need to be used correctly and safely by competent and well-trained operators. Ensuring forklift operation safety is essential to avoid any mishaps.
Avoiding forklift safety measures can be dangerous and incur huge losses. Now let's look at some of the most common and simple forklift safety tips for operators which ensure forklift safety.
Training
Individuals with a license and the right forklift safety training should only be allowed to operate the forklift. Operators without a permit and proper knowledge of using a forklift should stay away from the equipment.
PPEs
Operators must always wear appropriate clothing while operating a forklift to avoid any risky situation. Wearing PPEs, safety shoes, safety jacket, and helmet should be mandatory when working on the shop floor or while operating the equipment. Always wear the safety seat belt before moving the forklift.
Mandatory Checking of the Equipment
Regular check as per the manufacturer's manual of the forklift is critical when it comes to safety practices. Also, it is essential to check the equipment tyres, brakes, controls, steering, overhead guard, batteries, and safety accessories before you begin operations.
Operate with Safe Speed
The operator must always drive the forklift within its specified speed limits. Negligence towards equipment speed and operating them at unsafe speed can lead to accidents and losses.
Clear Visibility
It is recommended to not operate your forklift in poor visibility, as this may lead to accidents. It is always suggested to take support of hand signals on the shop floor in such situations.
Stability of the Load
Forklifts with unstable loads are a huge threat to the safety of the facility. Always check that the load lifted is correctly stacked and stable before moving them around the warehouse or facility. Also, check for overhead objects when moving the loads.
Apart from the above safety tips, it's suggested to maintain and execute a thorough pre-operation checklist before the forklift is put into operation. Adherence to the above tips and checklists can reduce the number of forklift mishaps and maintain a safe working environment for all. Please share your views and queries below, till then happy lifting!